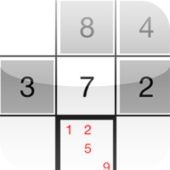 Sudoku4All


Sudoku4All permits to have unlimited combinations of game, with six difficulty levels.
The game is fully accessible through VoiceOver.

Main features:

- 6 levels of difficulty.
- Possibility to create personal sudoku.
- Results of your achievements both offline and online with game center.
- Intelligent aid.
- Accessible to all.
- Easy usage of the notes.
- Commands and options dedicated to blind people.
- Saving the game when I received a call.