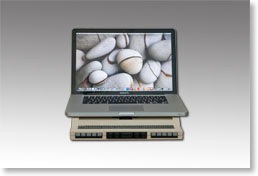 MB408L BLUETOOTH BRAILLE TERMINAL


MB 408L is a Braille display designed not only to get the maximum benefit from the improved technology of the personal computer, but also to give blind people an independent tool for writing, reading and communication.

MB 408L is equipped with a powerful processor and a large internal memory that can store files and to enhance the functions of software in the near future.

MB 408L have 15 multifunction keys and a Braille keyboard with 8 keys (or a PC keyboard) for the complete management of the terminal, and the internal file system.
It has a standard RS 232 serial ports for connection to the PC and Bluetooth connectivity.

MB 408L can operate in two different ways:

- As a standalone device with a file management system, a scientific calculator and a timer. The file management system allows you to create, edit, archive and delete files, using about 5 MB of nonvolatile memory.

- As a Braille terminal for Windows, Linux and OSX. Through the bluetooth connection, you can use it as a Braille terminal with iPhone

For Windows supports the most popular screen-reader software (JAWS, Windows Eyes). For JAWS drivers are available in the download section.

The software is stored in flash memory that allows it to be updated by the user, without expert assistance, in order to take immediate advantage of new features that will be added in the future.


FEATURES AND INDEPENDENT FUNCTIONS.
About 5 million characters can be stored.

Management of a maximum of 256 files.

Three ways of displaying text:

- Compressed: all extra spaces are not shown;

- Formatted the text is shown as if it were the screen of a PC;

- Normal: shows all the characters, including control characters.

Ability to edit or write text files (maximum file size of 64K).

Scientific calculator with 40 built-in functions (also handles hexadecimal numbers).

Chronometer.

Countdown.

Clock, Calendar.

Contacts.

Online help for all functions available.

Transfer files from PC to PC, through a simple program provided.
HARDWARE.
Dimensions: 32x28, 5x4, 7cm.

Weight: 2.1 Kg

Container: ABS

Power supply: 110-220 50/60 Hz Internal rechargeable battery (battery life about 20 hours)

N ° cells with Braille: 40 characters piezoelectric to 8 points

Interface: Serial RS-232,Bluetooth

Supplied accessories: cables, documentation